Time Travel Ventnor
Stroll through the centuries and discover the story of Ventnor.
Our free heritage trail of Ventnor has a circular route, which can be joined at any point. Designed for families and with children in mind, our walking trail is also ideal for groups and school classes. Each of the heritage trail guide boards has a Time Travel Challenge… Can you beat the cheeky clock?
Discover the history of Ventnor, how it developed from a small fishing village to a Victorian holiday hotspot. Explore areas of outstanding natural beauty, that hold the secrets of Bronze Age burial mounds or seek out our diverse range of architecture from High Victorian construction to Art Deco buildings.
The nine boards guide you through a tour of our town, down to the coast of Ventnor and up to St. Boniface Down, the highest point on the Isle of Wight – rising to over 240 metres. From start to finish our heritage trail can be broken down into bite size quests, or you could make a day of it and complete the entire trail – don't forget to pack refreshments and sun lotion.
The Time Travel Ventnor trail starts in Spring Hill, outside the Ventnor Heritage Centre with its museum, bookshop stocked with local history publications, and helpful band of volunteers ready to answer any questions you might have about local history.
Ventnor Heritage Centre
Ventnor Heritage Centre is the home of Ventnor & District Local History Society, established in 1980 by a group of local enthusiasts who succeeded in raising the funds to buy what had been a car showroom and convert it into a permanent space for a museum and to store their growing collection of photographs, documents and historic objects. Forty years later, both the Local History Society and the Heritage Centre are a central part of Ventnor life, and are still run and managed by local volunteers.
Our Museum has new exhibitions each year, while permanent displays include a model railway track featuring the two railways that used to bring thousands of visitors to Ventnor, alongside models of historic buildings like Ventnor Mill and Steephill Castle, and of some of the famous ships that used to be seen around the coast.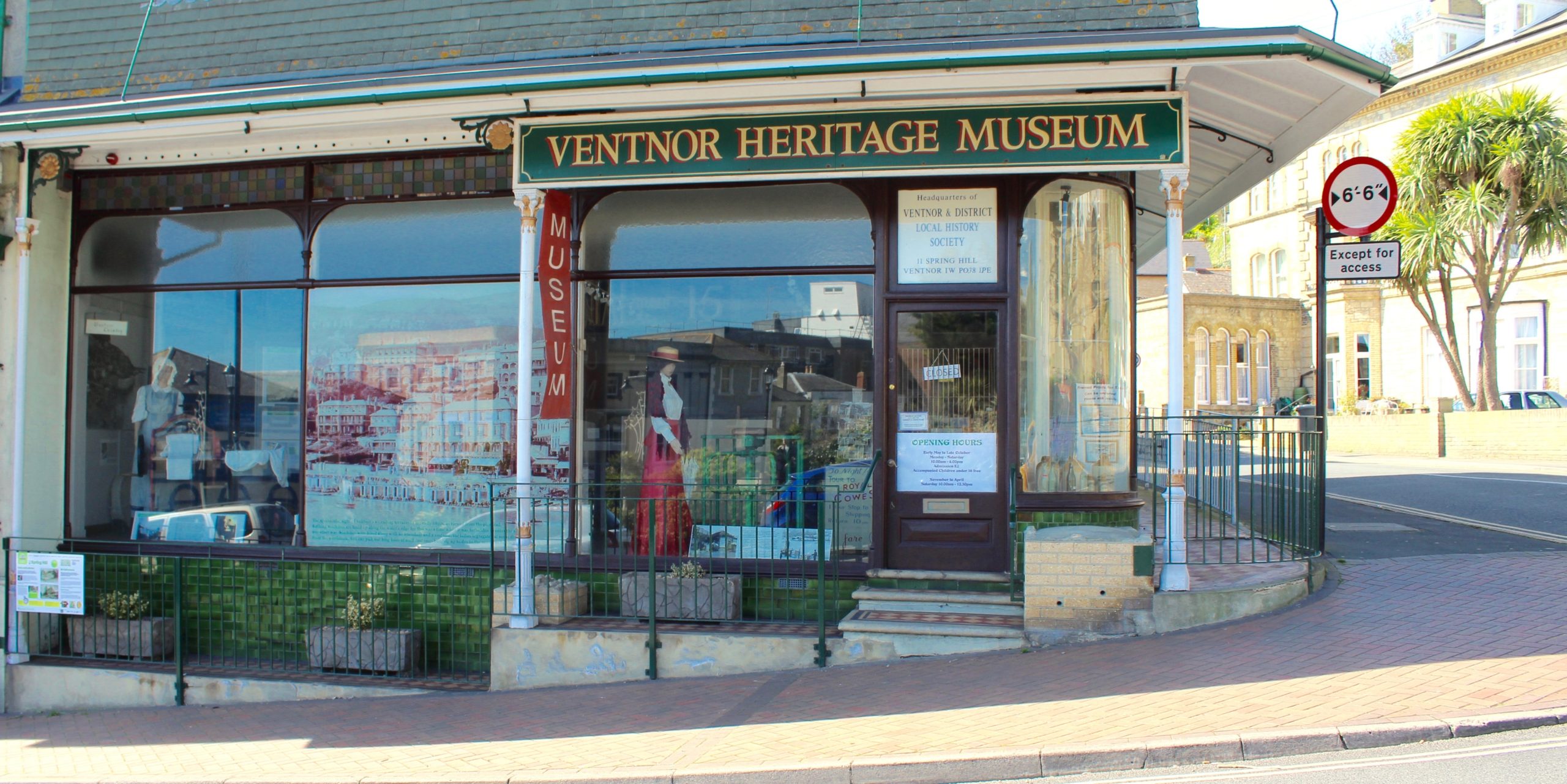 About This Project
This project was originally developed by the Ventnor & Undercliff Heritage Partnership, funded by the Heritage Lottery Fund via East Wight Landscape Partnership and Down to the Coast, and sponsored by National Trust, Red Funnel, Ventnor Town Council and Ventnor Heritage Centre. It is now managed and run by Ventnor Heritage Centre.

Photo and other credits
All images come from the Ventnor Heritage Centre archives unless stated below.
Graphics by Words&Stuff
Website by WHITE RABBIT
Trail Board 1
Hygeia Beer – Richard Downing
Trail Board 2
Mill Bay Inn Sign – Richard Downing
Trail Board 3
Hygeia Sign – Richard Downing
Trail Board 4
Bath House – Robin McInnes
Trail Board 5
Rex Cinema – Keith Terry
Trail Board 7
Hospital Incinerator – Words&Stuff
Trail Board 8
Train and Tunnel – Railway Magazine
Trail Board 9
Bronze Age Burial Barrows – Alan Phillips
Isle of Wight Rifles – Carisbrooke Castle Museum
RAF Ventnor – Painting by John Finch – Photograph by Carolyn Finch
St. Boniface – Cornelis Bloemaert c1630